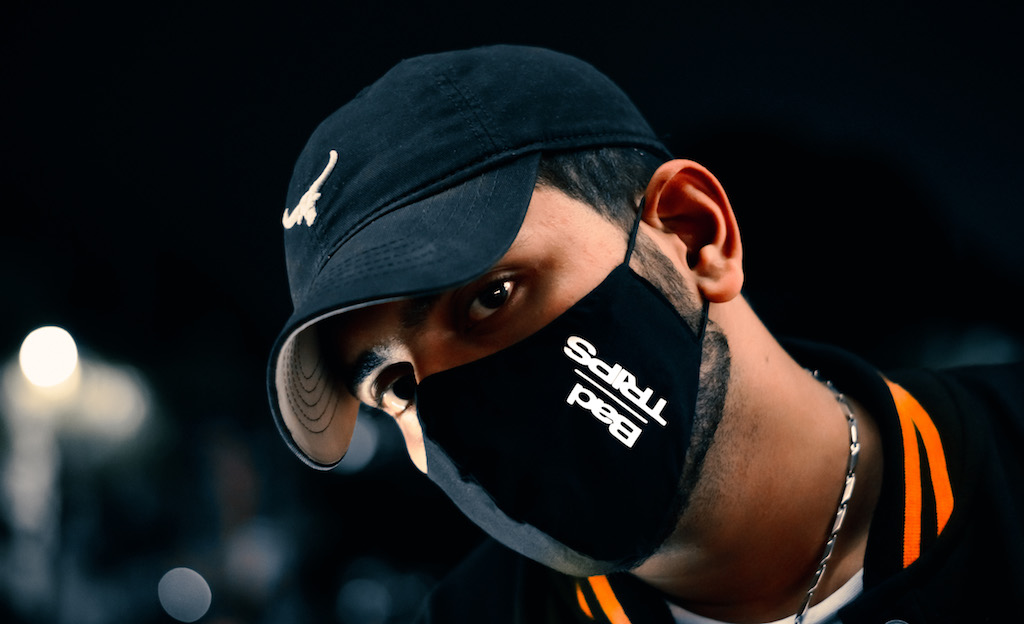 "The Hip Hop Scene In Jharkhand Is Lit AF!" Notes Jamshedpur Rapper Raajmusic In A Heart-To-Heart With Us
Before 2010, no organised Indian Rap and Hip Hop movement existed other than sporadic attempts between the 80s and 90s by the likes of Baba Sehgal, Stylebhai, Apache Indian, etc. In fact, kids from that era will remember Patel Rap by Bali Brahmbhatt with fondness. It was a song celebrating the Indian shopkeepers from around the world - India, Kenya, USA and the UK, known for their distinct personalities and business acumen. Later came the Punjabi Bhangra scene, which featured some rap, but again, nothing one could really call a movement.

It was only post 2010, that Indian Hip Hop attained distinct recognition the world over thanks to Gully Rap, an art-form originating from the slums of Mumbai and their narrow, crowded lanes. Gully Rap made specific references to the people who lived there and their day-to-day struggles. It's surprising how this was never done before. In fact, Mumbai has always been known for its duality of plush high-rises existing right next to vast slums in an alternating manner.

And thank God for Gully Rap, really. It has given India and Indians the world over a reason to be proud. While all genres of music from India have received worldwide appreciation in some form or the other, nothing comes close to the vast popularity of its currently Hip Hop scene. Again, thank god for it, because I remember attending events in the 2000s where rappers spat hilarious and cringeworthy lyrics like 'busting caps in asses' (No exaggeration here). Who, in India, ever does that? No doubt these rappers were talented as hell, but severely lacked authenticity. All until rappers like Divine, Naezy and their ilk came along and turned the tables. And while the popularity of this format continues to soar, it has also spawned similar movements across the nation. Jharkhand is one such state that aims to be the next Hip Hop capital of the country.

"The scene here is growing exponentially now!" Rapper Ritik Raj AKA Raajmusic beams. "We have battles and cyphers every month and people have begun to talk and write about us. Even Rolling Stone has shared my work. All the rappers here are very talented. I can assure you in another 3-4 years our rappers are going to be among the best in the country!"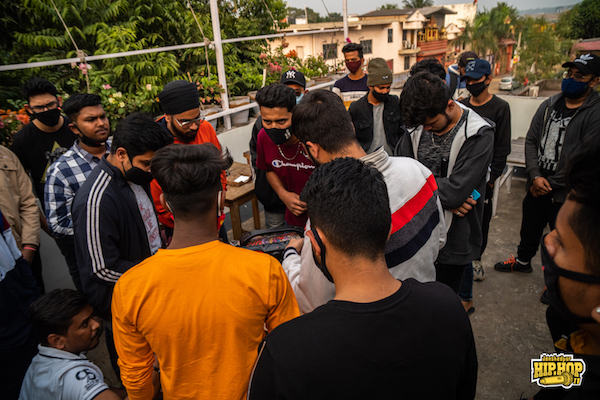 Raajmusic recently released a smashing new single called Ginti featuring one of New Delhi's most prolific rappers, MC Kode. In fact, Kode, known for his battling prowess, has been discreetly following the scene in Jamshedpur for a couple of years now.

"We had the first ever cypher in Jamshedpur called Kranti Cypher," Raajmusic tells me. "And there was this one battle between Abhishek Roy, a phenomenally talented rapper and Dzire, the only female battler in Jamshedpur. Now, Dzire is so brutal, that as soon as Kode saw her, he immediately began following us and our work."

Raajmusic remembers the day Kode began following him.

"I woke up one morning, shocked to see this new follower! We then began talking. I was a huge admirer of his work."

Going back eight years, Raajmusic's family conditions weren't ideal. To add to it, the move to Jamshedpur initially pushed him into dangerous company. But the 21-year-old sees a silver lining to it today.

"I was always into drama, art and dance. Art was always part of my life. So when I got into Hip Hop it gave me a way to overcome what I'd been through. A friend of mine sent me a couple of songs via Bluetooth. In those days, Bluetooth was the popular medium used to send music to one another. One song was by Eminem and the other by Kendrick Lamar. While Eminem was vastly popular in those days, Lamar had us gobsmacked. In his songs, he was talking about things that we here in Jharkhand identified with. It really blew our minds! I remember doing crazy google searches on Hip Hop music and the culture surrounding it."

Today Raajmusic organises the hugely popular Jamshedpur Jamming initiative, where local rappers, beatboxers, producers and enthusiasts come together to do Cyphers and Rap Battles. While these talented young rappers continue to look for like-minded collaborators, they are also ready for a wider exposure.
"My only motive is to put my city, Jamshedpur, on the national and international maps and to tell people that, while you have great underground scenes in Mumbai, Delhi and Bangalore, no disrespect, there's this outstanding movement happening in the east of India too and especially in states like Jharkhand. And we are pushing it to a great extent."

Then there's the popular YouTube Channel Jamshedpur Hip Hop TV that belongs to a collective comprising Vipul Jain, Rapper Blaze, Sunny K, Mr. Tribe and Raajmusic. He is positive things are going to blow up in the next three to four years.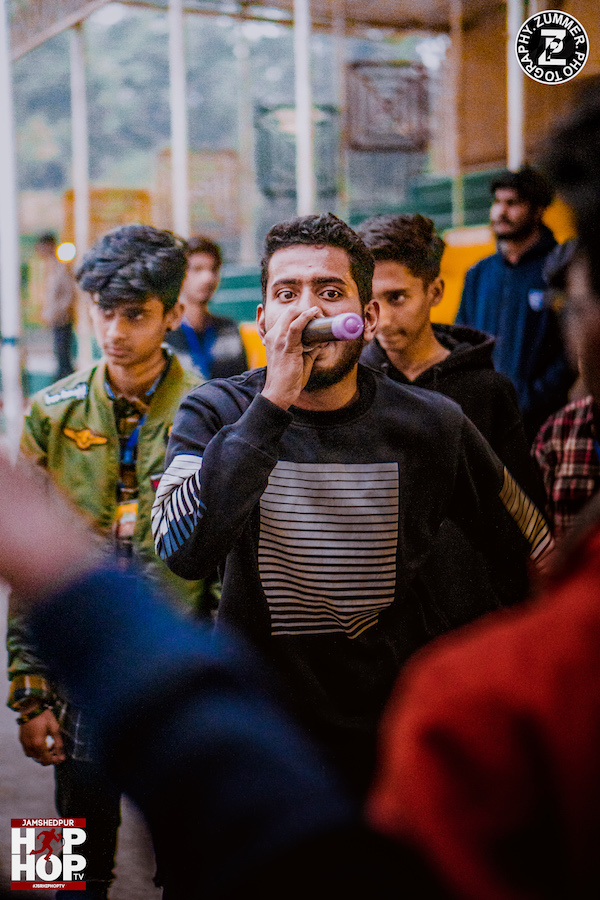 "In a quieter place like Jamshedpur, It's going to take more time for us to build our reputations. This can only happen if we work harder at our work, get better, and hope someone important takes notice. Nothing must ever stop us because it's only when we reach that level of expertise, that things are going to take shape. It's only when we can blow people's minds in the way Lamar and Eminem do, will we have something worthwhile to share. Good news is, this is slowly happening."

The artist and MC, also inspired by old-school rappers like Run DMC, Wu Tang Clan, Biggie and Tupac, believes great Hip Hop always boils down to the writing.

"You may well have a story, but how an artist handles the lyricality is important to me. It's art plus craft." He tells me. "If you are genuine, your sound is original and you're not faking anything, then there's nothing to stop you. But yes, it does take a lot of patience. If you have originality, no one can ever shadow you."
He also showers praises on his Indian contemporaries EMF and Noxious D.

"They're just phenomenal with their art and craft. And Noxious D is something else! Imagine triple time on a beat? No one has ever done that here in India."
So how did his latest single, Ginti, happen? How did he get Kode to feature on it? Well, social media, of course. And the lockdown.

"One day Kode put up a story telling people if they wanted him to feature in any of their work, they could send him a message. It was an open invitation that I just couldn't resist. I immediately hit him up!"

Kode received a ton of responses and DMs after this and, to add to it, didn't like Raaj's first track. Raaj, however, had no plans to stop sending his music.

"When I sent in my second track, he loved it. That's how he came to feature on it. It was so random!"

But that was just the beginning. He now had the monumental task to impress one of the biggest rappers he knew. His work had to have some value.

"It can't end up a missed opportunity. I wanted it to be catchy, and for that, it had to have a good rhyme scheme. This song is all about evolution in our lives. How we grow as people. I think that's what Kode really liked about it. It takes more than just a catchy beat to produce a song. Like I said, storytelling and lyricality must take the forefront."

Kode returns the favour by showering praises back on Raaj.

"Ginti is a special track! My verse on it pays homage to every listener who has been with me in my journey. It has always been about breaking the traditional entertainer-fan relationship and I know for sure that my people and I got something special from this. It was a dope experience working with my man, Raaj who has penned his verse so emotionally, making the track special."

The track also features Dromme, another amazing talent from Jamshedpur in the EDM space whom we have covered before.

This is just the beginning for Raajmusic. He has some important work to do to promote local languages and culture via his music. In fact, one of his upcoming albums will have three songs in Bhojpuri. And it doesn't stop there, he wants to go further with promoting other local and tribal languages.

"My team has a rapper called Mr. Tribe. He does some amazing work in a regional language in Jharkhand called Ho - a tribal language spoken by about 1.04 million people and spread across the tribal communities of Odisha, Bihar, Chhattisgarh, West Bengal, Assam."

But, of course, no story can be complete without the mention of the heart and soul behind it. For Raajmusic it is his girlfriend.

"She's the content writer for our group," He gushes. "The one who has been most encouraging to me actively. She not only understands where I am coming from as an artist, but also is a crucial part of that journey. Sometimes, you may think that you've found a perfect person because she supports your growth, but to find someone you can work with and still be able to continue the personal relationship smoothly? That's rare!"

Yes, it is!
Banner Image Credit: Kunal Singh
LISTEN TO GINTI