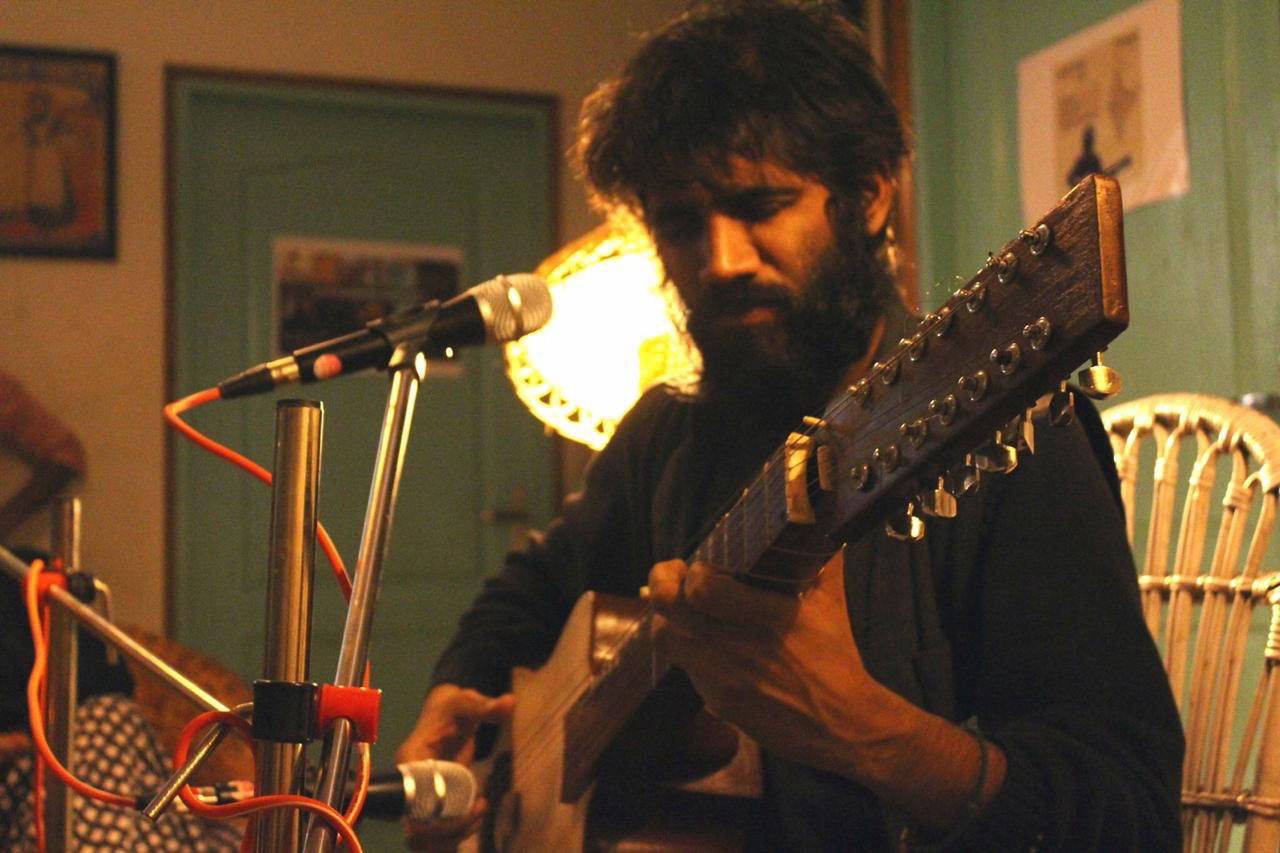 Once an Engineer, Always a Musician | Part 2 | An Interview with Kavish Seth
Today we bring you the second part of our exclusive interview with Kavish Seth, poet, musician and polymath! Ceteris Paribus, Kavish Seth is also the inventor of the 'Noori', a 14 stringed instrument shaped like a guitar, but with a wooden frame covered in goatskin to produce percussive sounds like those of a djembe. A true blend of east and west.
Part 2

Is life better for an Indie musician today than say a decade ago? Are there more opportunities to perform?

There are definitely more opportunities to perform today. However, it is still difficult to sustain oneself as an artist. There will always be that fight and it for an artist, sustainability and passion in equal measures are important. Many artists release songs to make money, which is a good thing. Though I haven't released any songs yet, I'm enjoying the fight and will continue to do so.

How do you promote your work? Online? Word of Mouth? Or a bit of both?

Mostly word of mouth. Though I see the advantage of online channels, word of mouth works better for an artist like me. I prefer having a personal connection with the people in my audience, many of whom know me. In fact, recently, I performed in a village near Pune where my audience was made up mostly of people who had gotten to know about it from others.

I even got to perform in a village near Nagpur, when my song was sent to a few filmmakers by a colleague of theirs and they had hosted me. For me, word of mouth is the best way as it leads to such experiences that online just can't.

Tell us more about Zubaan. How have you worked to help independent musicians in rural India collaborate and perform their music to audiences across the world and country?

Internationally, I have performed in Tel Aviv and Moscow. In Moscow, we organised the Zubaan project with Raghavendra from Banaras. Nilay was the percussionist and beatboxer. This exciting experience was a first for us and the stage was the biggest. Artists from around the world were present. It was great that they gave us an hour-long slot. It was the encouragement and exposure on a global level that boosted everyone's standing in their musical scene, like Raghavendra in Banaras, Nilay in his and me in mine. I believe that Banaras' Kashi lanes are a world unto themselves. They have visitors from around the world and all serious artists go to Kashi to perform, showcase their talent and collaborate. Here I have met and collaborated with amazing national and international talent.

In India we have strong divides between the urban and rural populace, where the urban populations are generally considered the haves and the rural, the have-nots. In fact, the word 'Gaireeb' in Arabic literally means the disowned and unknown. I would challenge this point of view. If we kept the cities with their film industries aside, it would leave us with a vast richness in culture. The Bhakti movement was the biggest, most unparalleled movement in music history. Musicians in so many languages collaborated and everyone had access to them. Sant Kabir, whom we refer to as a saint or fakir, was considered an artist of his time. People like him would travel from one place to another, delivering thoughts and messages. This era lasted four or five hundred years! The way Zubaan is going, I would expect it to shape up in a similar manner. Zubaan is not something that has an end. It's not a movement with an end aim. Music is forever and involves the amalgamation of communities, which again is something that will continue. I see indie or local artists travelling to other areas similarly to collaborate with artists in other areas and from other cultures and communities.

It will help the independent artist find organic growth by forming genuine connections with their audiences. This is actual progress. The kind that will generate a wealth of both the cultural and the financial kind. It will also help them find their own unique formats and styles which will eventually gain urban recognition and hence, more money. Getting rich may be fast most times, but generating true wealth takes time. As for the performances in smaller villages go, the villagers themselves take care of the artist's stay, food and other necessities when they cannot pay the artist with money. What more does one need? In fact, I would say that the local scenes are now far more organised and slowly there seems to be a cash flow system falling in place. It won't be long before artists will get paid, even at the village-level.

What have been your biggest lessons from Zubaan? What would you do again and what would you change?

When I started Zubaan, I hadn't decided on a role for myself. My struggle then was - am I an artist or an entrepreneur? I thought about the structure of the company and our target markets. Neha would tell me, "continue with your work and first think about yourself and then about others, don't sacrifice so much for others."

I didn't consider it a sacrifice, and if it was one, it was part of every journey. Successful founders have always had to sacrifice. Sacrifices, if not for anything else, have always opened doors one would never imagine were there. I used to find myself lonely in my efforts from time to time. Nobody around me was thinking about and putting in much effort in the indie music scene. Those who previously grew as artists and put something back in for the community were slowly beginning to disappear. Today, after Zubaan's efforts, I feel validated.

Zubaan didn't start off as a platform to manage artists. My goal was to collaborate and take my music to the world. Then upon meeting and talking to other artists, I realised they too were trying to do the same thing. This is where the coming-together began. My biggest takeaway from Zubaan was that as an entrepreneur, one ends up in unimagined roles. When you're creating something new, you end up doing a lot of things you could never have imagined. I was slowly starting to understand I had to understand all forms of art. I was representing people from varied backgrounds. I needed to fit and curate acts to a variety of cultures and regions. But again, this is not entirely typical to the role of the entrepreneur because the natural path would then be to streamline it in some way. To become an artist manager of sorts. That is not me. I play a significant role in setting up each collaboration act individually. I don't wait for things to happen. There is no clear cut process when there are so many cultures, formats and instruments involved.

Tell us a bit about the instrument you have invented, the Noori.

The Noori is an instrument on which all schools of music, Arabic, Eastern and Western, can be played. The only other instruments that can do this are the Violin and the Flute. The Noori belongs to the guitar, ood, rabab and sarod family of musical instruments. It can play both monophonic and polyphonic types of music. It is chord and self-scale-based. Raag-based for Indian music and Maqam for Arabic music. This makes it a very interesting instrument because any musician from any background can play the Noori. Though people have used the guitar to play Indian music in the past, there are fundamental differences that render the guitar moot. The Swar, notes and beats are not as pure as those on a Sarod or Sitar. Hence a fusion between the guitar and the sarod or sitar doesn't sit well. Noori can produce djembe-like percussive sound and its resonant strings 'Tarabein', set the mood for a raag. The harmony and synchrony don't come across well because at some point one instrument is going to overpower the other. But with the Noori, this doesn't happen. It fuses perfectly with any other instrument.

It has taken me two-and-a-half years to build the Noori. I built my first with Nizamji in Delhi, but unfortunately; he passed away last year. I'm now building a second with Gauss in Meerut. It requires intensive improvements and upgrades, which we are carrying out.

The reason I built the Noori was that I wanted an Indian sounding instrument that was convenient to travel with. Once when I was travelling by train, after performing with my companions, an old gentleman expressed to hear an Indian instrument. This got me thinking. Foreigners visiting our country, too, wanted to hear Indian music played on Indian instruments. The sitar and sarod weren't handy for moments like these. I needed something that could play Indian music and was as convenient to carry around and play impromptu sets like a guitar was.

I then began my experiments with the instrument, and since I liked the Rabab, my first inkling was to see if the same sounding notes could be played on a guitar. Thus began my journey with the Noori

Today, I have successfully patented the Noori. The patent that was issued by the Government of India's Intellectual Property, Indian Patent Advanced Search Systems, was approved a few weeks ago.

How would you communicate the ground realities of being an independent musician to up and coming musicians? Are there any words of advice, encouragement or caution you would give them?

One, that Independent is actually interdependent and collaborations are utmost necessary. Two, that social capital (social media) will not feed you and the star culture is toxic and it's not good for music or yourself. Three, that financial sense is important and it should be strong. I find it's rarely present in artists here. One hit and some fan following will not last for a lifetime and people should live in reality and be grounded.

What does the future look like for Kavish Seth, the artist?

I practice and create something new every day. I want to improve and become much better at what I'm doing. And my Noori is almost ready.

I want to release my songs this year - two songs. One is my latest collaboration with Spanish Kathak artist who spends her time between Spain and Varanasi. It has been an amazing learning experience for me. We've created a song in the form of Kathak, which is something I had never dreamed of doing. Kathak is a powerful expression or form of expression of art as the entire body here is an instrument. In Kathak, there are bolparanths - Tiyahi, Takka, Tukde. We created a song based on these intricate rhythm-based components.

The second song, Arzoo, is with a German-Turkish artist Zainab. It's also set to release soon. I will also work on my third Noori, an upgraded version of my second one, from September onwards. Once I have perfected it, I will open for pre-orders and sales.

Watch the Video