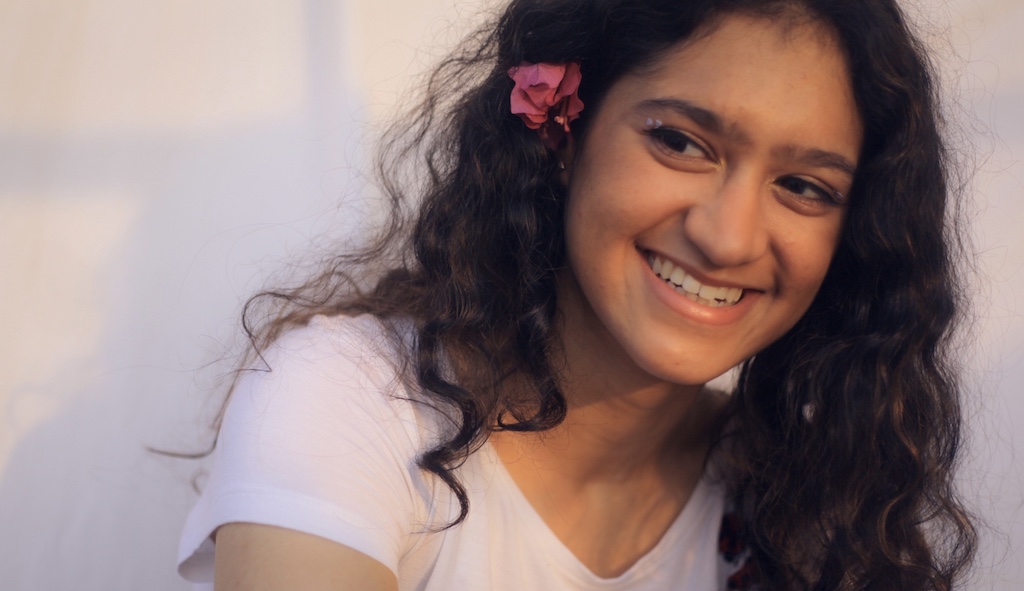 Mumbai-Based Singer-Songwriter Saaranya Tells Us About Her Music, Life and Inspirations
Saaranya's latest single I Purple You is all kinds of sweet. The 19-year-old singer-songwriter from Mumbai calls it an acoustic love song to make you feel loved. That it is, for sure. The song is just two things - simple fingerpicking and a silvery voice to go with it, kind of reminding us Angie Hart's vocal textures on Frente!'s 1994 hit cover of Bizarre Love Triangle. We sat down to talk to her about, well, everything!
Tell us your back story. Tell us about Saaranya, the Person, and Saaranya, the Musician. How are they similar, how are they different and where do they meet?

Saaranya, The Person and Saaranya, The Musician are very similar. Nowadays, it's all about authenticity and being true to who you are. I don't shy away from portraying my true self to my audience. There is no reason for me to put up a fake persona. I just like being my goofy self and I like it when people find certain aspects of mine funny or relatable. I guess at the end of the day people online are only looking for a source of connection and belonging and I feel like I can provide that for them. I try to portray my true self to my audience as much as I can especially in the music videos that I have created. I think it helps deepen the connection between me and my listeners and I want them to get to know the real me, beyond my music.

Tell us about your musical foundations, influences (If not already answered in the previous question).

My biggest influence in my journey has been Taylor Swift. In all honesty, I think she was the reason I started wanting it as a career in the first place. There was a phase where I became truly obsessed with her back when I was 11 or 12. I would watch all of her music videos and performances over and over again and then imitate performing to her songs in the mirror as if I were the one standing on that stage. I think that's when it began and soon after I started writing my own songs. They were really crappy initially but I have now gotten better over the years. It didn't start as anything serious but just me enjoying the craft and now that's grown over the years.

We enjoyed your song I purple you! Tell us all about it - the story behind the song, challenges you faced, successes, basically everything!

I purple you originated in my living room. I was playing random chords on my guitar as usual and then the lyrics and melody of the verse and chorus came to me on it's own. It was short and sweet and I knew I had to record it on my phone in case I forget. I had forgotten about it for a while until a month from then when I thought it could turn into an actual song. The phrase "I purple you" was actually curated by BTS' V as a symbol of love for their fans ARMY and that was the inspiration for the song. The biggest challenge I faced was finding the right producer for the track. That took longer than I expected it to.

Tell us about your writing process, compositions and arrangements and the musicians who work with you. How do they fit in and why do you work with them?

I don't think hard and fast about creating melodies or lyrics. Whenever I sit down to write something, the words and the music just come to me naturally. I prefer writing lyrics along with the melody as it gives me a clearer idea on where the song is headed. Most of my songs just come to me after I have come up with a chord progression on my guitar. Later I go back to them to make a few alterations wherever necessary. I haven't really written a track with someone before. It's mostly just me and the producer for the designated track working together. I like best working with people whose vision for the project matches mine. For, I purple you, the producer was Rwitobroto. I came across his profile on insta and checked out his previous work which suited what I had in mind for my track, and so we ended up working together.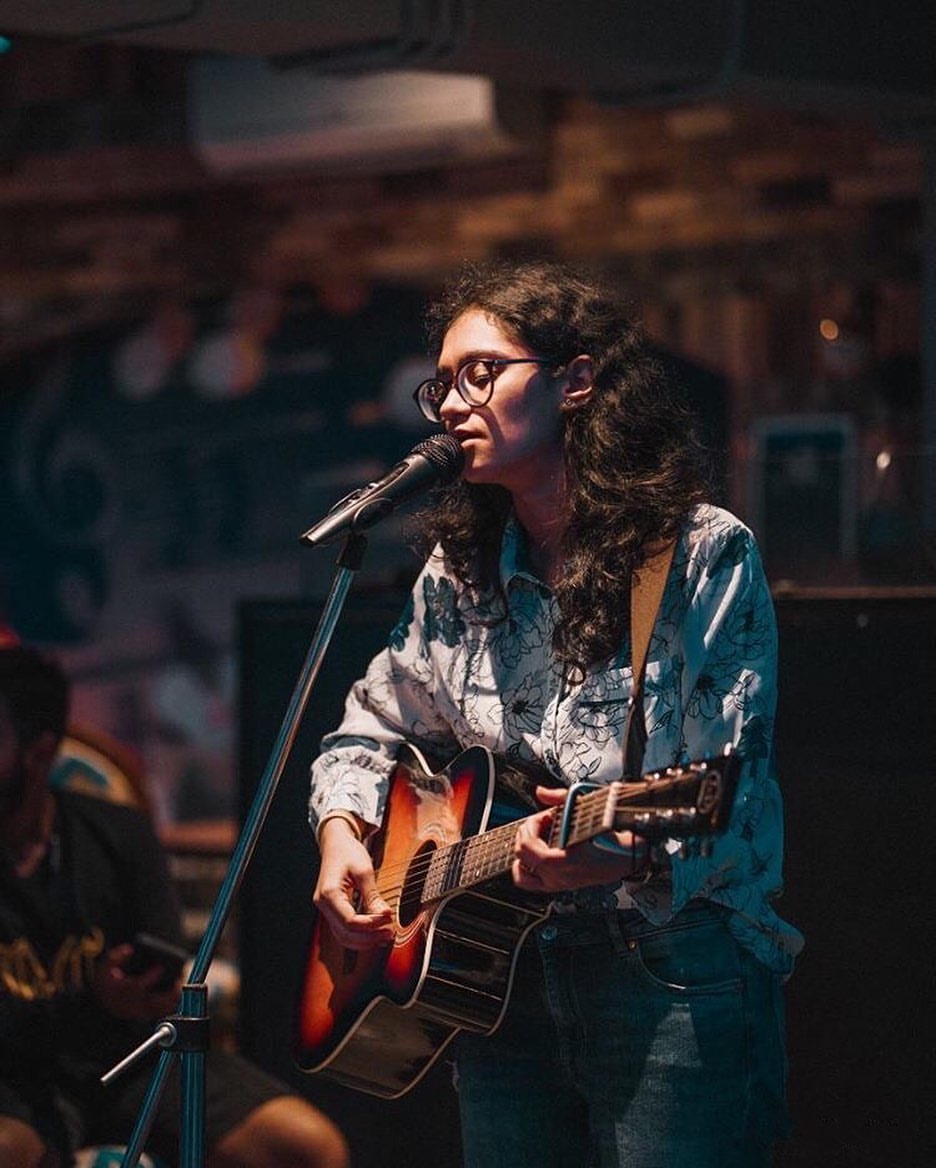 What's on your playlist these days?

Currently on my playlist is Kiss Me More by Doja Cat and SZA and African Sun by Naika. I really like Doja Cat and SZA's music and I recently came across Naika who is also pretty great.

Everyone, especially artists, have guilty-pleasure songs/albums/artists that have influenced them. Ozzy had the Beatles. What about you? And why?

Well, the composition of I purple you was actually inspired by the style of beabadoobee. The rest of my music (unreleased) has been inspired by Billie Eilish, The Weeknd, Conan Gray and Harry Styles. And I wouldn't term them as my guilty pleasure because I genuinely take inspiration from them. Each one of them have helped shape certain aspects of my songs, lyrically or production wise.

Which genre/s of music are you most comfortable singing. What's a genre you'd never dare top try but wish you could?

I am most comfortable singing pop, r&b and blues. Heavy Metal is definitely the one that feels so out of reach. My voice isn't built for it at all. I can't imagine making my voice sound like that without absolutely damaging it.

What's it like being an indie artist? What did you do during the pandemic? Tell us about your pre-pandemic live performances and what things look like for you now.

Being an indie artist has its pros and cons, much like everything else in life. Sometimes it gets exhausting managing everything on your own, especially the things related to promotion. It would definitely be easier if someone else were there to take care of that. Otherwise, I love to be an active participant in doing everything that shapes my career. Pandemic has been great for my career. I got the time to sort myself and my priorities out and it really gave me the time to put everything in order. I was able to successfully release my first two singles which I probably wouldn't have been able to had I been attending college everyday. I was really able to use this time productively and create a lot of good music. Though now I hope things open up soon so I can perform my songs live and reach more people.

If you had to go on tour to another country, which one would it be and why?

It might sound like the obvious and the most heard choice but, the US. In all honesty, I do feel being an indie artist in India is a little tough, more so because I mostly make English songs and I feel the larger crowd wants to hear Hindi ones, based on my experience at least. I do think the US would have more opportunities regarding the same and it would also expose me to new places and new crowds.

What's next for Saaranya?

I have at least three more singles planned out for release in the coming months. One being I purple you's remix coming on 30th April. I suggest everyone mark the date in their calendars. It's something new and unexpected and I would love for everyone to experience it with me.

WATCH I PURPLE YOU
LISTEN ON SPOTIFY