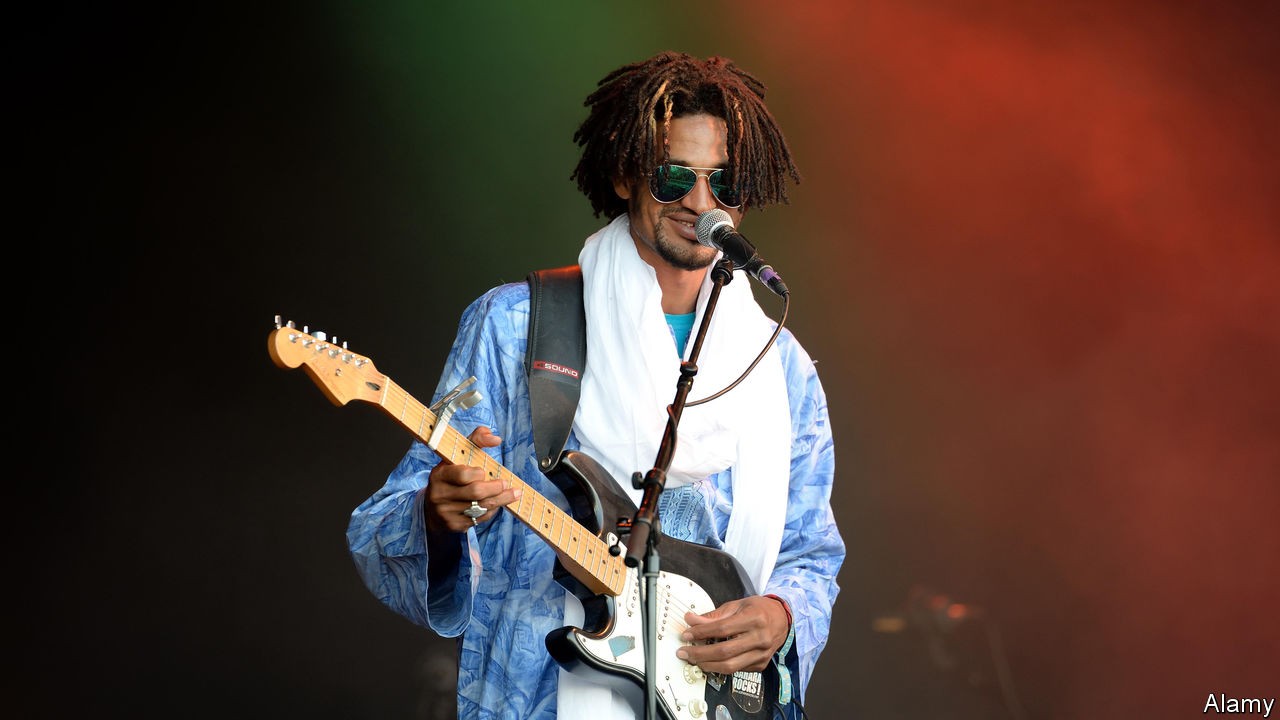 Where is the most innovative guitar music of the 21st Century coming from? Your guess is probably wrong!
(Topic suggested by Hansen R. R. )
Imagine the most insane guitar shreds, more original than anything you've heard. Imagine musicians that admit they may not know what rock is, and yet celebrated as Psych Rock maestros. Imagine hailing from small villages where secular music is generally discouraged, and yet winning the approval of local religious leaders with unrelenting shreds and traditional lyrics? Unless you have already encountered the new wave of folk music from contemporary Sahara, you've probably guessed wrong.

We're talking about the West African sensations and the sounds from the Tuareg guitar scene in countries like Mali, Burkina Faso, Algeria Libya and Niger. That's where the best rock music is coming from! We're talking about the Kel Tamashek guitar revolution, incorporating music that originates in the desert, chants from all over the region, and influenced by Andalusian and Lebanese string music, Berber orchestras from the North and the music of the Sahel from the South. Originally shared via Bluetooth and cellphones across the Sahara, this unique style of music has fast made its way to the rest of the world, mostly through the efforts of Christopher Kirkley, who founded the record label Sahel Sounds after travelling to Africa in 2008 and spending almost two years in Mauritania, Mali, and Niger

Today we bring you eight of the best Saharan musicians. Sit through all of them and by the end of it, if you're not awestruck, you have no soul.

Tinariwen

These musicians grew up during the first Tuareg rebellion in 1963. Tinariwen's leader Ibrahim Ag Alhabib was a young boy then and his father was executed for helping the rebels. Abdallah Ag Alhousseini, one of the group's guitarists and singers, told Algérie News, "We are military artists! Today, if we see that our brothers need fighters rather than musicians, we will go to the front, because we are always ready to answer the call of the preservation of our land, our values, and our culture. This is what we do through music, and we will do it again with arms!"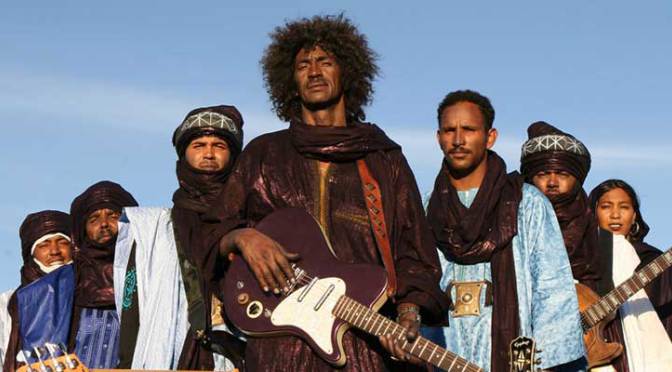 Mdou Moctar

A prominent figure in the West African scene, Mdou Moctar is primarily a wedding performer from Tamashek. This 34-year-old prodigy is often credited as a pioneer of the scene, playing a left-handed Stratocaster just like Hendrix did. What's more? He's even called the Hendrix of the Sahara. He says, "I don't know what rock is exactly. I have no idea. I only know how to play in my style."

But his style is diverse, complete with Takamba trance rhythms and tapping on the electric guitar, much like the late Eddie Van Halen did.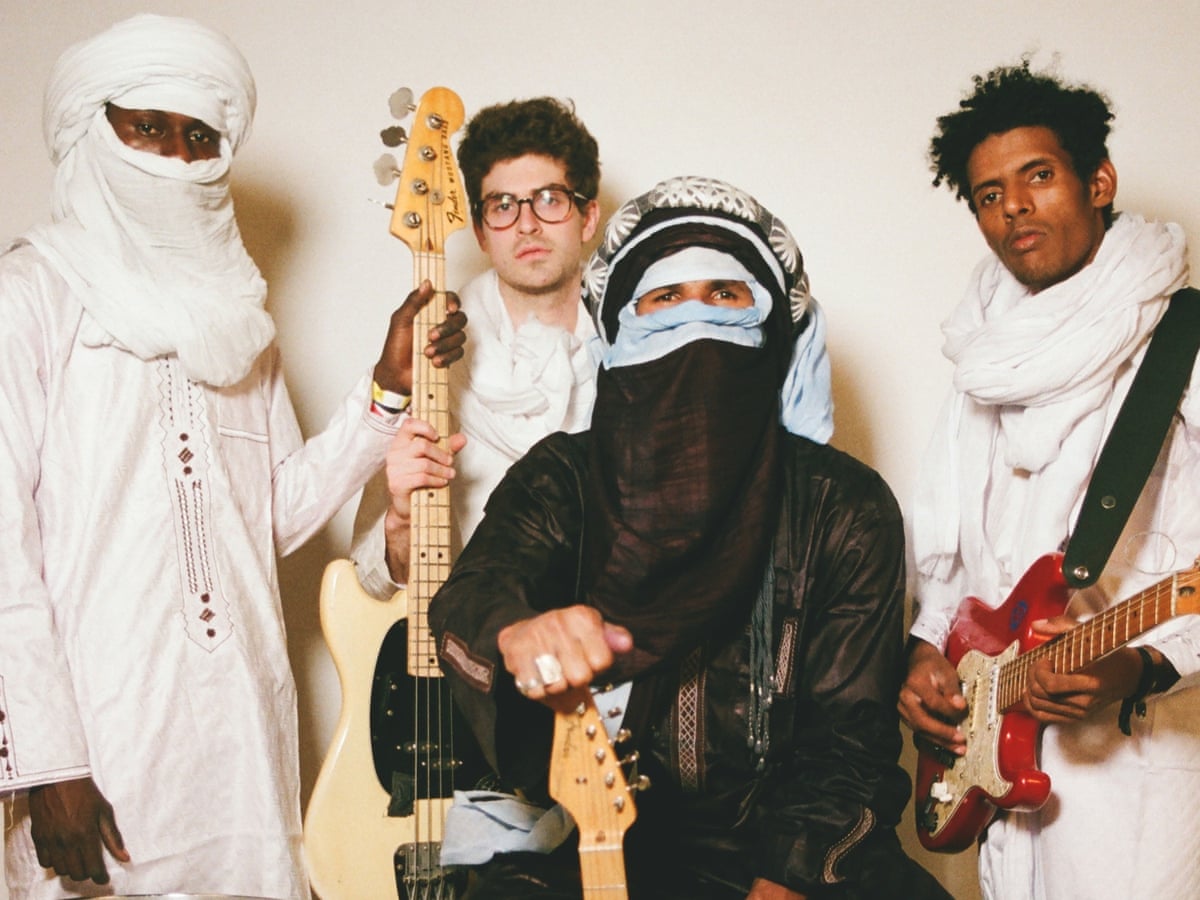 Group Bombino

The group, led by Omara 'Bombino' Moctar, was the first Nigerian artist to be nominated for a Grammy. Following the outbreak of the Tuareg Rebellion in 1990, Bombino, along with his father and grandmother, was forced to flee to Algeria. During this time, visiting relatives left behind a guitar, and Omara began to teach himself how to play. He later studied with renowned Tuareg guitarist, Haja Bebe, and joined his band. In his teen years, Bombino and his companions watched videos of Jimi Hendrix, Mark Knopfler and others to learn their styles. He worked as both a musician and a herder in the desert near Tripoli. By 1997, Bombino had returned to Agadez as a professional musician.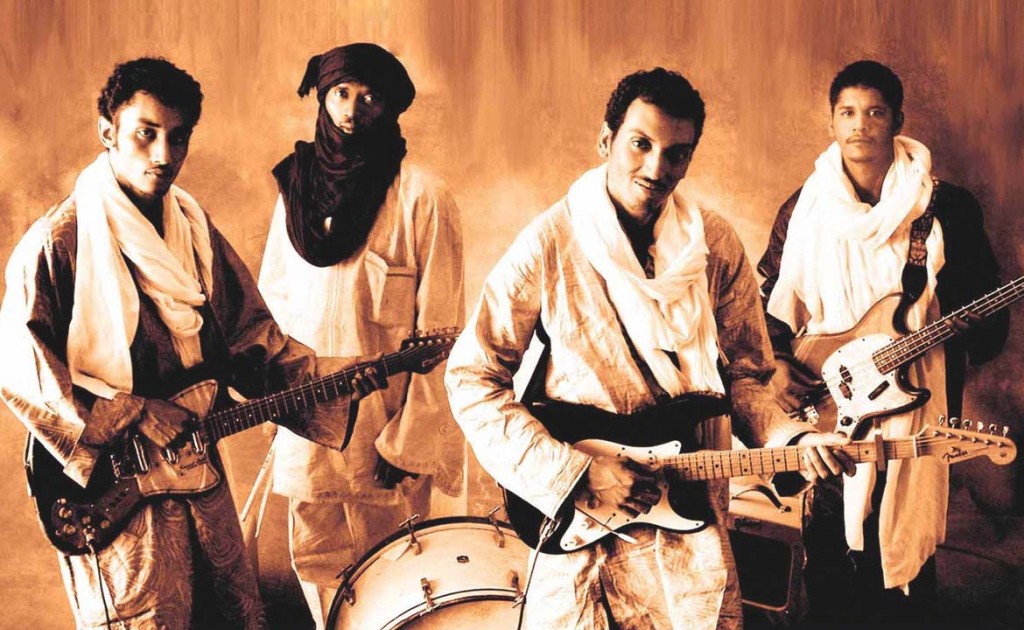 Fatou Seidi Ghali/Les Filles de Illighadad

Fatou Seidi Ghali resides in the tiny village of Illighadad, Niger. The region has also produced the celebrated guitarists mentioned earlier, Bombino, Mdou Moctar and Ibrahim Ag Alhabib. The difference is that Fatou is a woman, in fact one of only two Tuareg female guitarists. It is also claimed that she's the first Tuareg woman to play guitar professionally. Quoting a 2019 article from The Guardian, 'Fatou started the band in 2016 with her cousin Alamnou Akrouni, who plays percussion and sings. A third member, Mariama Salah Aswan, recently left to start a family and was replaced by Fatimata Ahmadelher, the Tuareg's second-ever female guitarist, who also contributes vocals and percussion. They are in their late 20s, they say, although they have no birth certificates.'

Fatou plays the tende, and an old blue guitar, slightly bent because of the extreme weather.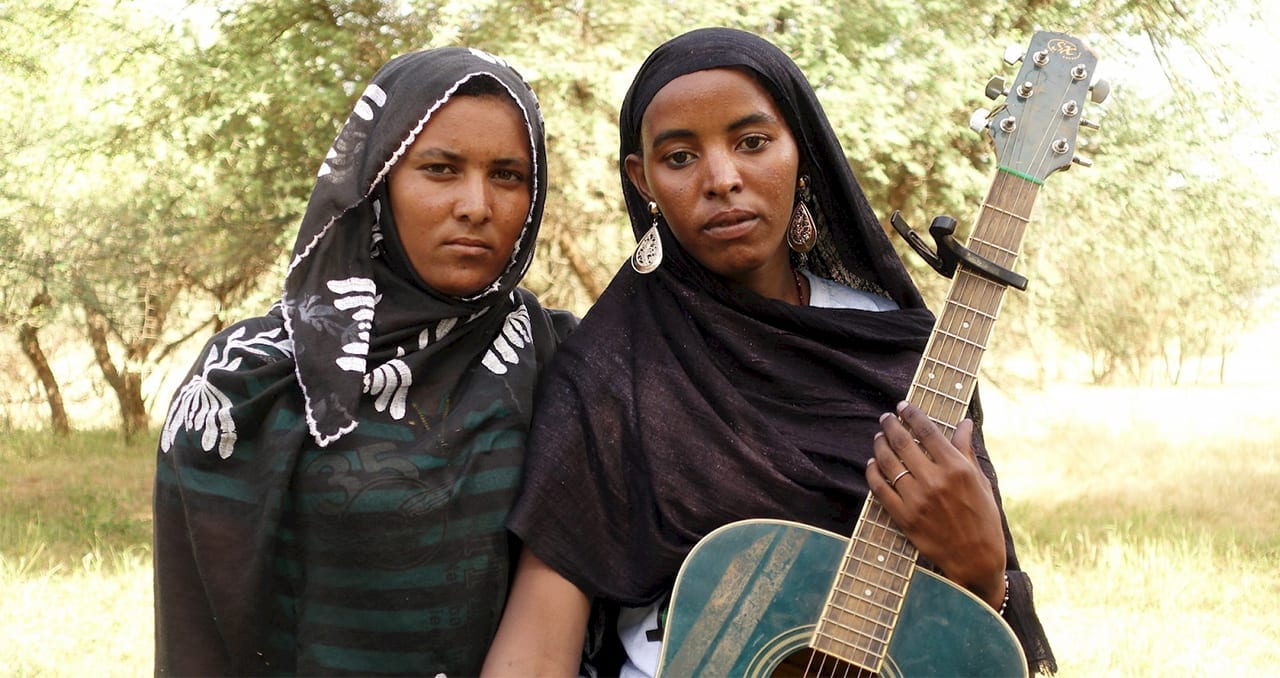 Group Inerane

A guitar rock band from Niger, Group Inerane's album is comparatively sweeter than the power and hugeness of Tinariwen. According to NPR, 'The guitar sways lightly, while the drums are busy but remain in thrall to a straight-ahead beat. It's raw and scrawny-sounding — the album was recorded live, and you can tell — but it's also pulsing with life and good cheer, like the best moments on a U.S. college station back when bedroom-label seven-inch singles were experiencing a surge.'

Spearheaded by guitar hero Bibi Ahmed, Group Inerane carries forward the rich tradition of Tamachek guitar songs for the next generation.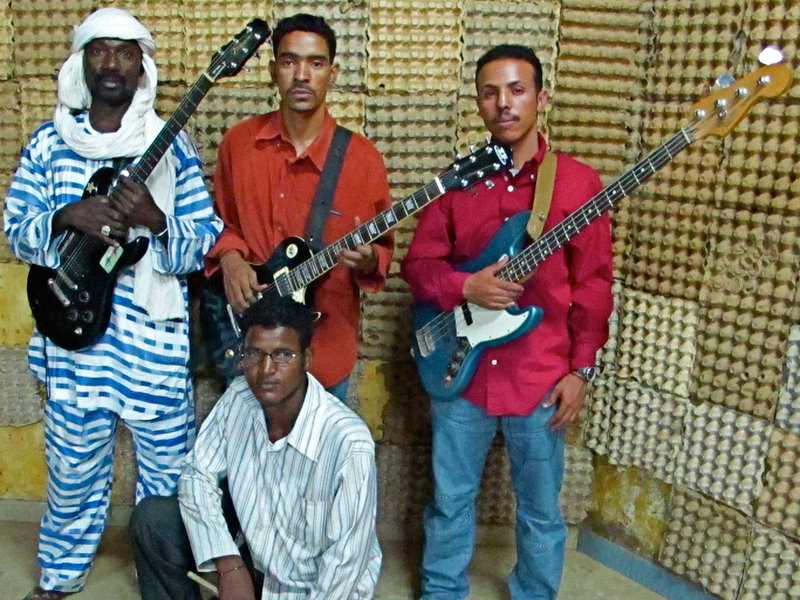 Afous D'Afous

Afous D'Afous is a six person guitar group from Tamanrasset, Algeria. The group is led by Kader Tarhanine who according to Sahel Sounds is a musician that you don't know about, but should. His song 'Tarhanine Tegla' (My Love is Gone) was one of those viral successes of the Bluetooth/Cellphone/Mp3 network of music trading (even Youtube, where the video has over one million views). The song, where he got his name, has a programmed drum with a heavy bass kick that loops throughout, with a call and response lyrics dancing with an infectious electric guitar riff.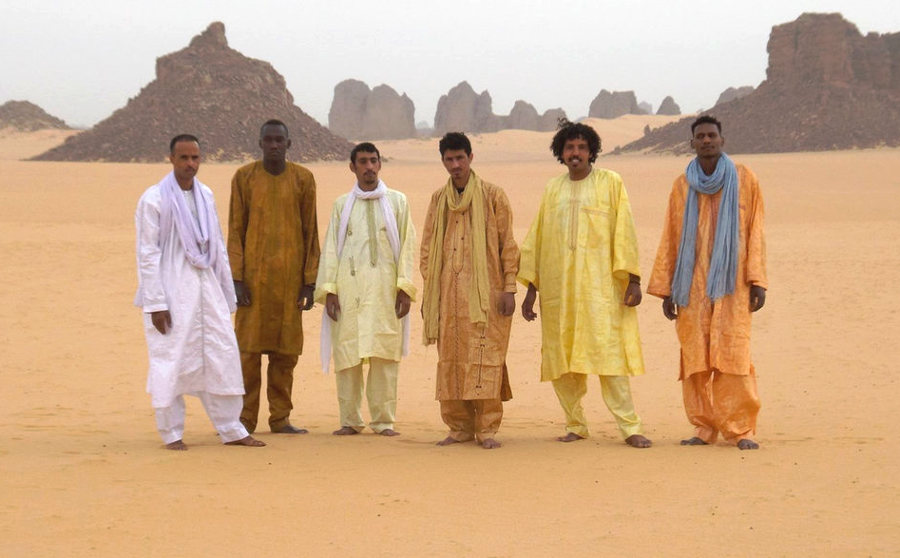 Tamikrest

Tamikrest, which means junction, alliance or the future in Tamashek, is a group founded in Mali in 2006. They got their basic training in music at the Les enfants de l'Adrar school in Algeria. Their youth however was also shaped by the Tuareg Rebellion between 1990 and 1995, where many lost their family members. When riots broke out again in 2006, Ousmane Ag Mossa and his friend Cheick Ag Tiglia decided not to fight with weapons, but to call attention to the Tuareg's cause through musical means. With the internet and mp3 culture, the Tamikrest members got to know musicians like Jimi Hendrix, Bob Marley, Pink Floyd and Mark Knopfler who influenced the shaping of their sound as well.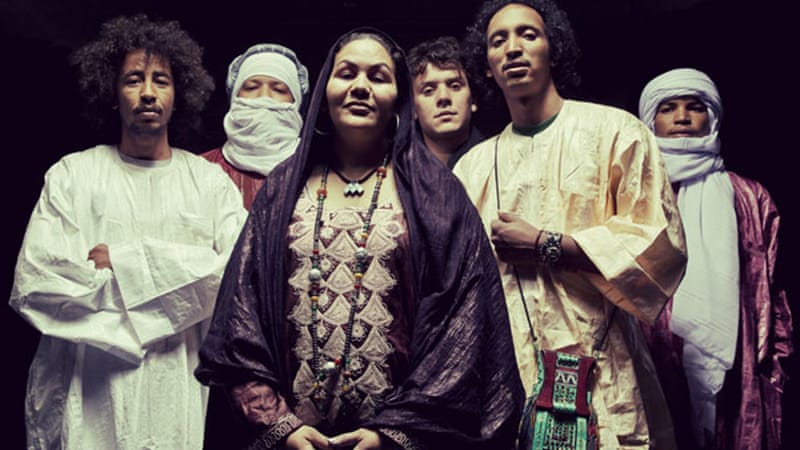 Group Anmataff

Christopher Kirkley points out, "Group Anmataff really stands out with their song "Tinariwen" (labeled "Baye - Tinariwen"). I've heard a lot of Tuareg guitar and I was living with a group of guitarists at the time — but this was the first time I'd ever heard a drum machine. The Tuareg folk style guitar uses this ancient drumming rhythm that's supposed to mimic the pace of a camel. It's this kind of looping, hypnotic sound. Apparently these guys got their hands on a Groovebox and programmed the rhythm."