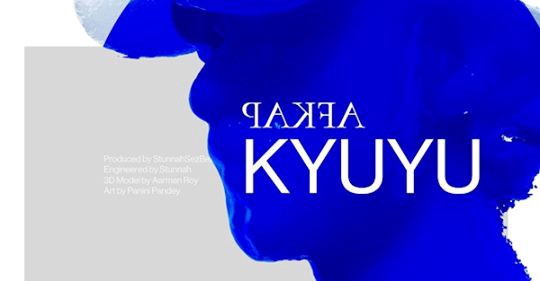 It's Time To Face The Music
Panini, was an ancient Sanskrit philologist, grammarian, and a revered scholar in ancient India, often referred to as the father of linguistics. But the Panini we are talking about today is a musician who goes by the pseudonym AFKAP.
I'll get to the philosophy behind the name AFKAP later on in the article.
As I listen to his latest single 'KYUYU' on a Monday afternoon, which frankly feels more like dusk on a Sunday evening, I find myself mesmerised by the character and texture of his track. Both, melancholic and uplifting at the same time. Reminiscent of the late Lil Peep's 'Life is Beautiful' but yet sounding nothing like it. His breathless vocals demand my attention, yanking me in by the gut and forcing me to focus on the lyrics. It's one of those songs you want to keep up with lest you miss a word or even a lesson. You can, of course, rewind it and listen to it again, but the sense of urgency to get all of it the first time around is overwhelming at the very least.

The release of this track is quite well-timed. During these COVID times, each one of us is thinking, contemplating if you will, about our lives, our decisions, our old priorities and new ones. According to the description on YouTube - 'Afkap calls others out for their mind games, dishonesty and attempts to exploit him, he believes his current situation is a very small step moving forward and there's a lot of work he needs to put in and wishes to just focus on that and not on the noise around him".

The song hits you like a freight train with lyrics like "Toh tera mera yahaan kya hai bol zara? tera mera kya hai bol? Raasta hai mera kahi aur, ab jaane de. Ab nahi aana mere ore" reminding us of the futility of some of our actions and relationships with others. A far cry from much of the western ear-garbage we've been subjected to in the recent past. This, coupled with a haunting music track demands a window of the listener, to stare out at the vast emptiness of our city. If one had to compare it to any experience, it would come closest to reading George Orwell's '1984' with the Matrix soundtrack playing in the background.

Someone once told me that great art never came from a place of comfort. Uncomfortable and oppressive situations bring out thoughts, feelings and emotions like never before and true artists find inspiration in places they never expected to. Like Ozzy Osborne found his in the Beatles.

I find this virtue in AFKAP, who was born in Uttrakhand, raised in New Delhi, relocated to Mumbai and then moved to New York. One can only imagine the waves and ups-and-downs of learning and experience that influence this young artist. An artist whose engagement with music started with Linkin Park, Eminem and 'a lot of old school rap'. An artist whose inspiration lies most in the sounds of the cities he's lived in and the writing connected to them, rather than just in other people's music. And even when probed about his musical influences, he confused me further by listing a range of artists not in any way concerned with the unique sound of his music. Kanye West, A$AP Rocky, Frank Ocean, Childish Gambino, XXXTentacion, Drake, OutKast, Kendrick Lamar, Daft Punk, The Weeknd, Rosalia, Lana Del Rey, Tame Impala and Tyler, The Creator.

He tells me very matter-of-factly - "I listen to any new genre and try to keep myself open to experimentation. This works well for my sound, as at this point I want to work more with sound and give out new vibes. I take a lot of time with my writing because I want my lyrics to be simple yet well-articulated with minimum words. I want to constantly work with new sounds to make my writing more flexible".

So what does AFKAP mean? Is it related in any way to TAFKAP - The Artist Formerly known as Prince? Not really.

In his own words, "One day, I randomly came across an Instagram page which was called 'The Vibe Formerly Known As' and played around with it to come up with AFKAP. I later realized that the acronym stems from Prince (TAFKAP)... I had taken a liking to the title and just love the way it sounded, so then I stuck to it, as even my original name doesn't have a meaning and I was essentially named after a person".

An interesting fact about Prince Rogers Nelson was that his first name, which eventually became his mononym, was actually owned by his record label, Warner Bros. This meant that once his contract was severed with them, he could no longer use it. Not without a fight at least. It seems that the system is even out to exploit and screw with the influential. And somehow, when you listen to AFKAP's music, it all comes together - the contained anger and outrage of an artist taken advantage of by those around him.

A graduate in interactive design, he has now moved from visual design to filmmaking, "In the last 2 years," he says, "I've directed a short film and creatively headed a bunch of audio-visual projects for Gully Gang Entertainment, including co-directing the music video for Kohinoor and Junoon by popular hip-hop artist, DIVINE. All these experiences have helped me figure out my own brand of music that has a lot to do with visuals. So anything that I plan to release at any point has to be associated with visuals and these visuals should give another layer of depth or dimension to my music."

Having found representation with the prolific indie-label Gully Gang Entertainment, he plans to release singles in the immediate future and an EP by the end of the year. His latest single 'KYUYU' can be found on YouTube.