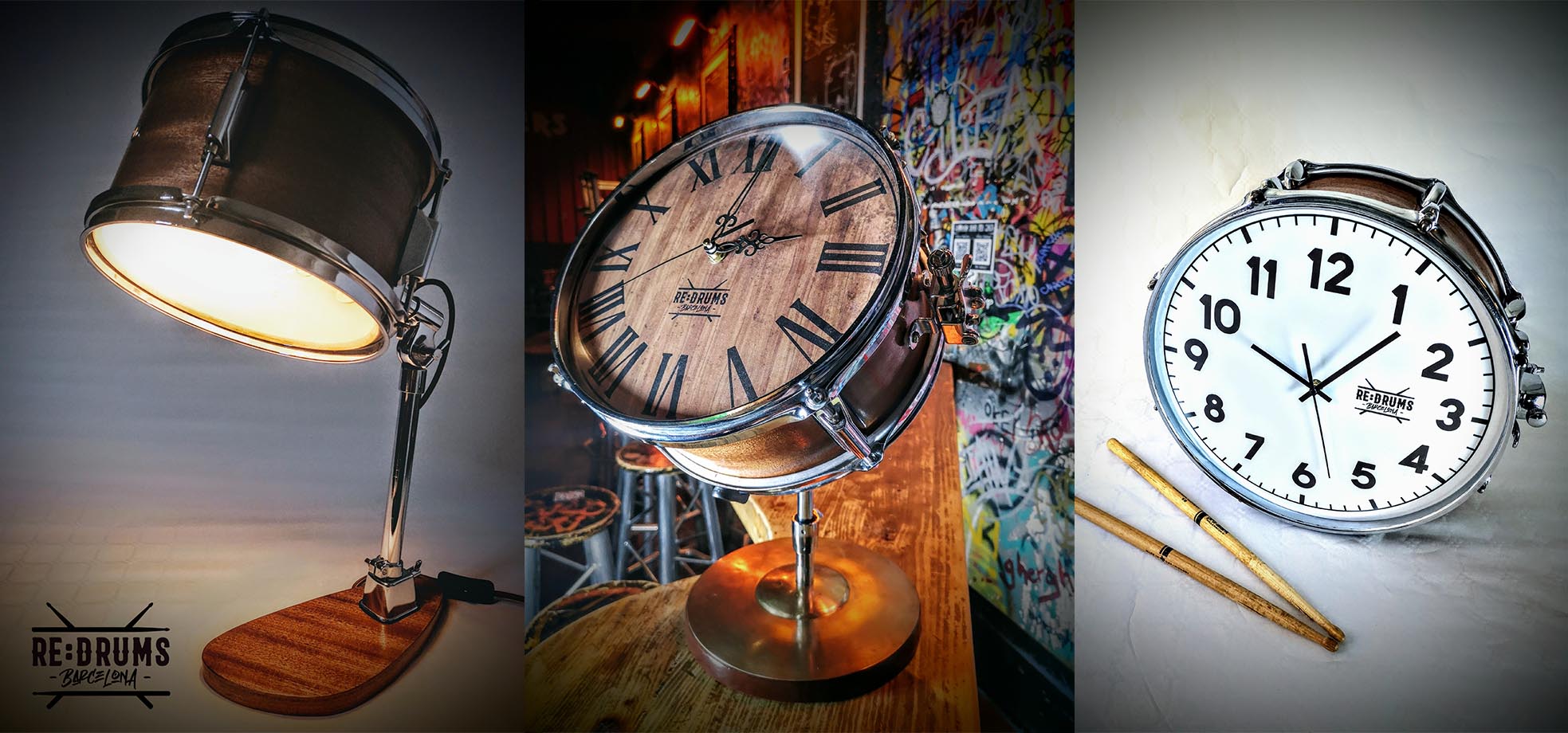 This Barcelona Company Is Reimagining Old Drums To Create The Coolest Interior Decoration Products
When we chanced upon Barcelona-based Chilean Alex Schoihet's venture, Re:Drums, we knew this was something that absolutely needed to reach international clientele. The innovation, beauty and finesse in the hand-crafted items made by reusing old drums is by far one of the coolest home decor ideas we've seen in recent times. Today, Alex takes us through his idea, the creative process, the challenges he faces and, finally, a glimpse into the future.

"My idea to reuse old drums is mainly because of the versatility of it's round shape, I might create a desktop lamp from a 10-inch tom-tom or a side table out of a 16-inch floor tom. Snare drums are good for wall mounted clocks and so on. So depending on the size of the drum, I make objects that work best for that size. It's a time-consuming process, with a lot of attention to detail, but I enjoy it a lot," Alex begins.

The process starts with disassembling all the parts of the hardware, lugs, tension rods and snare wires. He then cleans them to rid them of rust in order to bring out the original chrome. The original paint or wrapping is removed by sanding the drum. Depending on the look and idea, the drums are wrapped with a variety of materials such as wood veneer and more.

While Re:Drums is still in its nascent stages and still a one-man-band born from the pandemic, Alex is open to the idea of partnerships.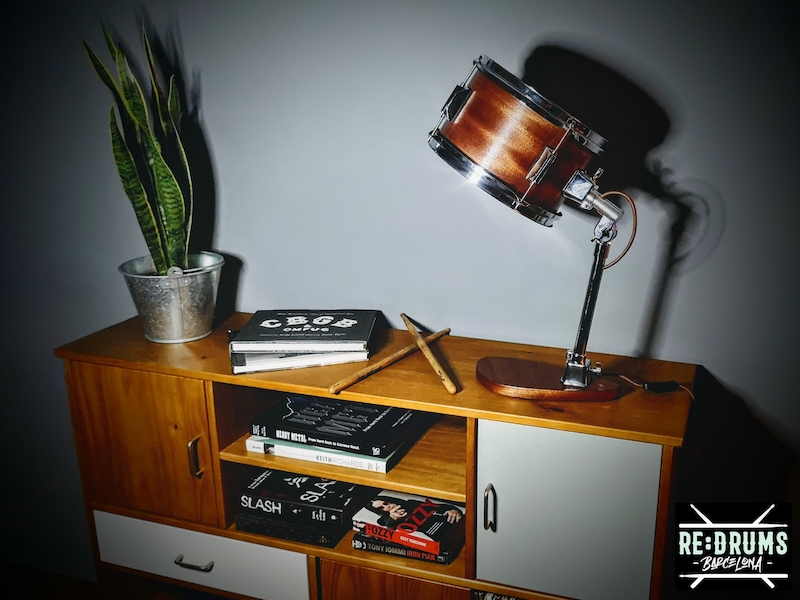 Born in Santiago, Chile, Alex has been living in Barcelona for the past decade and a half. He has an academic background in Sound Engineering but steered towards entrepreneurship ten years ago when he, along with three friends, opened a Grunge-themed bar called Nevermind in downtown Barcelona.

"Following the success of Nevermind, we opened another, bigger bar, with a skate concrete bowl inside, live performances and DJ-sets. It quickly became a beacon for alternative street culture in the city."

Their Rock-and-roll bar, The Bollocks, has great cocktails and burgers and vintage pinball machines and, of course, the best rock music of all times.

"All of that came to an abrupt stop in March 2020. After over 10 years of being open every day, we've arrived at a point where, because of the pandemic, our bars have been now closed for a year,"

With COVID-19 and the strong restrictions concerning the operations of bars and restaurants, hospitality entrepreneurs like Alex have been struggling in every sense with no income coming in. This is when he used the abundance of talents he'd accumulated over his lifetime to keep his mind busy and his hands dirty.

"I've been playing the drums regularly since the age of ten. These days, I play with this awesome new band called The Deathlines. I've also been taking apart drums for a long time. I wanted to keep my mind away from the whole situation and also try to generate some extra income for my family. But it had to be about something I loved. I have this standing lamp at home that I made from an old snare drum and a cymbal stand a few years ago. I would always get compliments about it whenever someone came home. So I thought - why not do this and turn it into a small business?"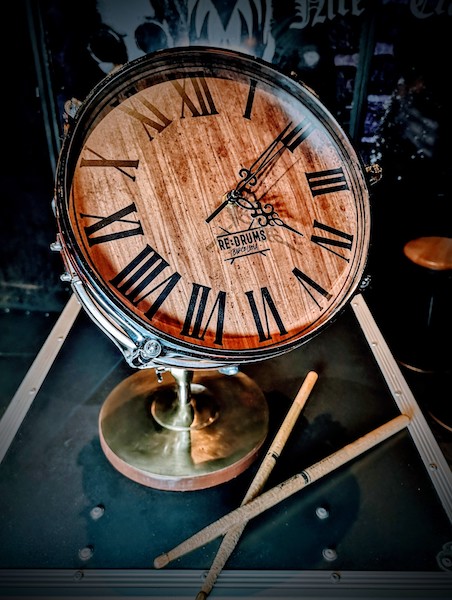 "Setting up shop and investing time in creating the first prototypes has itself been quite the achievement. And of course, putting in a little money for the tools. My biggest success, however, lies in the fact that I'm able to handcraft something unique which people are completely digging! For me, it's always been about mixing creativity with music and being my own boss. The whole bar thing started out this way too."

Is Alex seeking investment now that he has proof of concept?

"Not really. At the moment, I want to work independently and don't want to compromise the creative freedom I have dealing with stakeholders. I'm content as long as I have buyers for the products I create!"

So far, the drums used are either ones that Alex has collected over the years or ones he'd bought to make a specific piece, rather than to gather used drums and be some type of recycling green point.

"Most of the drums I've bought have ended up with thick layers of dust over time. I get an immense sense of satisfaction when I bring them back to life."

Alex creates all Re:Drums' products in his workshop in downtown Barcelona and ships them to destinations worldwide. He also accepts custom requests from customers who want specific details in their pieces. This is possible because each piece is handcrafted from scratch and almost anything can be done with it.

"Nowadays, it's all about financial stability and also, I want to do this full time. Even though Re:Drums started out as a hobby, as something I wanted to do while waiting for the bars to reopen, it has turned into something significant and I don't want to stop now. It's funny how it took a pandemic for me to start this venture, but on second thoughts, I think it was the only way it could have happened." He chuckles.

To contact Alex regarding commissions or other inquiries, email him on ReDrumsBarcelona@gmail.com or send a direct message to him on Instagram.