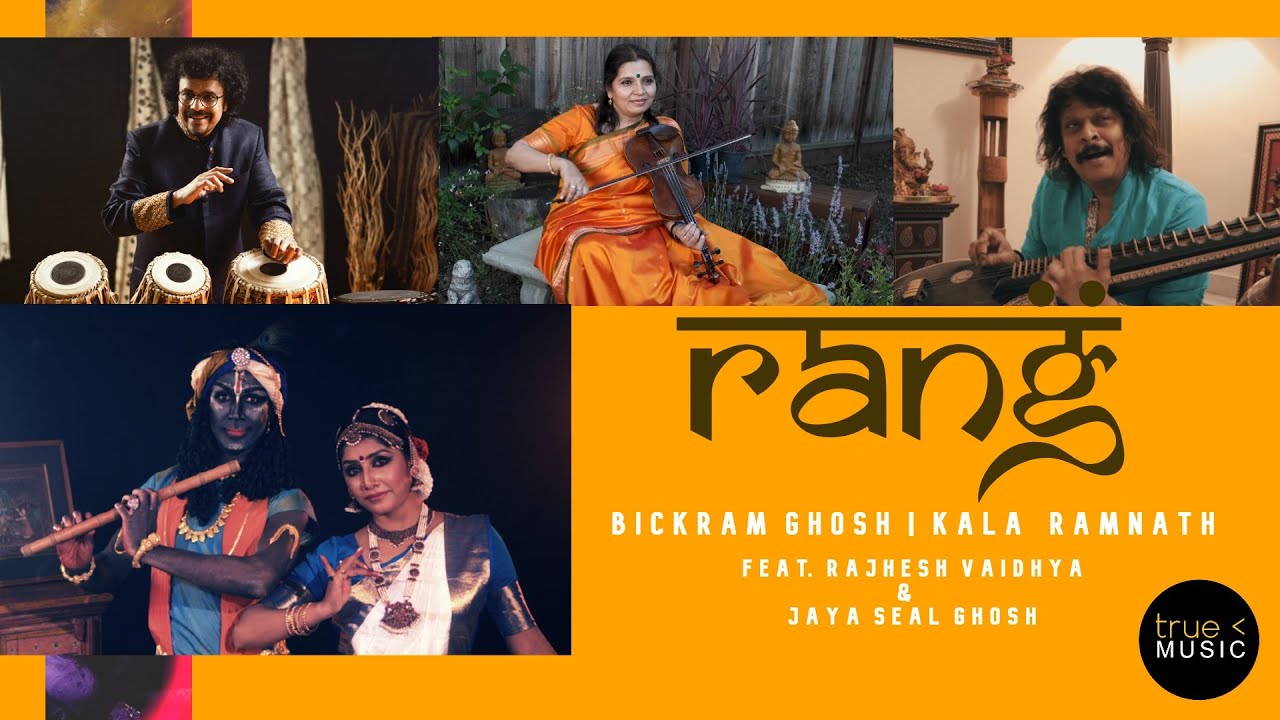 Maestro Bickram Ghosh's New Socially-Distanced Music Video Rang Is An Absolute Treat For All!

It's no secret that Meastro Bickram Ghosh is one of the greatest contemporary Indian classical artists and a pioneers in experimental fusion. Having scored thirty-six feature films, including Little Zizou and Bengali cinema's latest offering, Asur, he's been keeping very busy during the pandemic.

His recent music video for the track Rang features Indian classical violinist Kala Ramnath and we're awestruck by the coming together of two of the best artists, accomplished in their own fields.

From Ghosh's perspective, "It is an intense sound rooted in the great tradition of Indian classical music , yet broadening its horizons through the inclusion of folk elements as well as influences from other world traditions. The unique compositions and breath-taking virtuosity of the musicians make Rang an intense and impactful experience."
About Rang
An evocative piece which celebrates color. Lord Krishna, a dark-skinned God is the centre of this celebration track. He, through his lifetime, overcomes evil and restores balance in the world. The beautiful track works as a visual metaphor through an audio experience. The Violin and Veena, in interplay are often reminiscent of Radha and Krishna.
Video Preface
Rang is color . The festival of Color in India -"Holi", is a celebration of the Lord Krishna , a dark-skinned God. In Rang we see Radha, Krishna's lover rejecting men who pose as Krishna until her true dark-skinned lover arrives . The color of skin takes on many metaphorical hues.



Rang was composed and shot over a difficult period and according to Ghosh, "Rang subtly touches upon the subject of the victory of the human spirit through the toughest of challenges. The lyrics of the songs persistently speak of a sense of celebration amidst all odds. The celebration of life itself which has the potential to rise like the phoenix through any challenge. If we stick together, setting aside all differences of color, creed and culture we will inevitably create a world of beauty where the beautiful notes of Krishna's flute strengthen our souls."

Credits
Composition : Bickram Ghosh & Kala Ramnath
Violin: Kala Ramnath
Tablas , duggis, vocal bol-scat and effect percussions: Bickram Ghosh
Veena: Rajhesh Vaidhya
Vocals: Ambarish Das
Lyrics: Bickram Ghosh (KHELAT SHYAM HORI)
Programming arrangements: Sayan Ganguly
Recording Engineer : Suman Dey
Mixing : Shamik Guha Roy
Mastering : Barry Phillips

Directed by Bickram Ghosh
'Radha' - Jaya Seal Ghosh
'Krishna' - Pankoj Singha Roy

Dance Troupe Choreography : Sanjukta Sinha
Sanjukta Sinha Dance Company, Ahmedabad
Dancers :
Krutika Ghanekar
Mihika Mukherjee
Vidhi Shah
Pankaj Sihag
Hiren Gajjar
Shantanu Gosavi


Assistant Director - Soumya Mukhopadhyay
Director of Photography - Suman Dey, Soumya Mukhopadhyay, James Manalisay
Editor - Soumya Mukhopadhyay, Suman Dey
Colorist - Soumya Mukhopadhyay

Costume for 'Radha' - Rajib Mondal
Costume for 'Krishna' - Abhishek Dutta, Pankoj Singha Roy
Make up artist - Ratul Sarkar
Production Manager - Somrit Mukherjee
Crew
Raju Rai
Badal Das

© Copyright Bickram Ghosh & Kala Ramnath (2020)