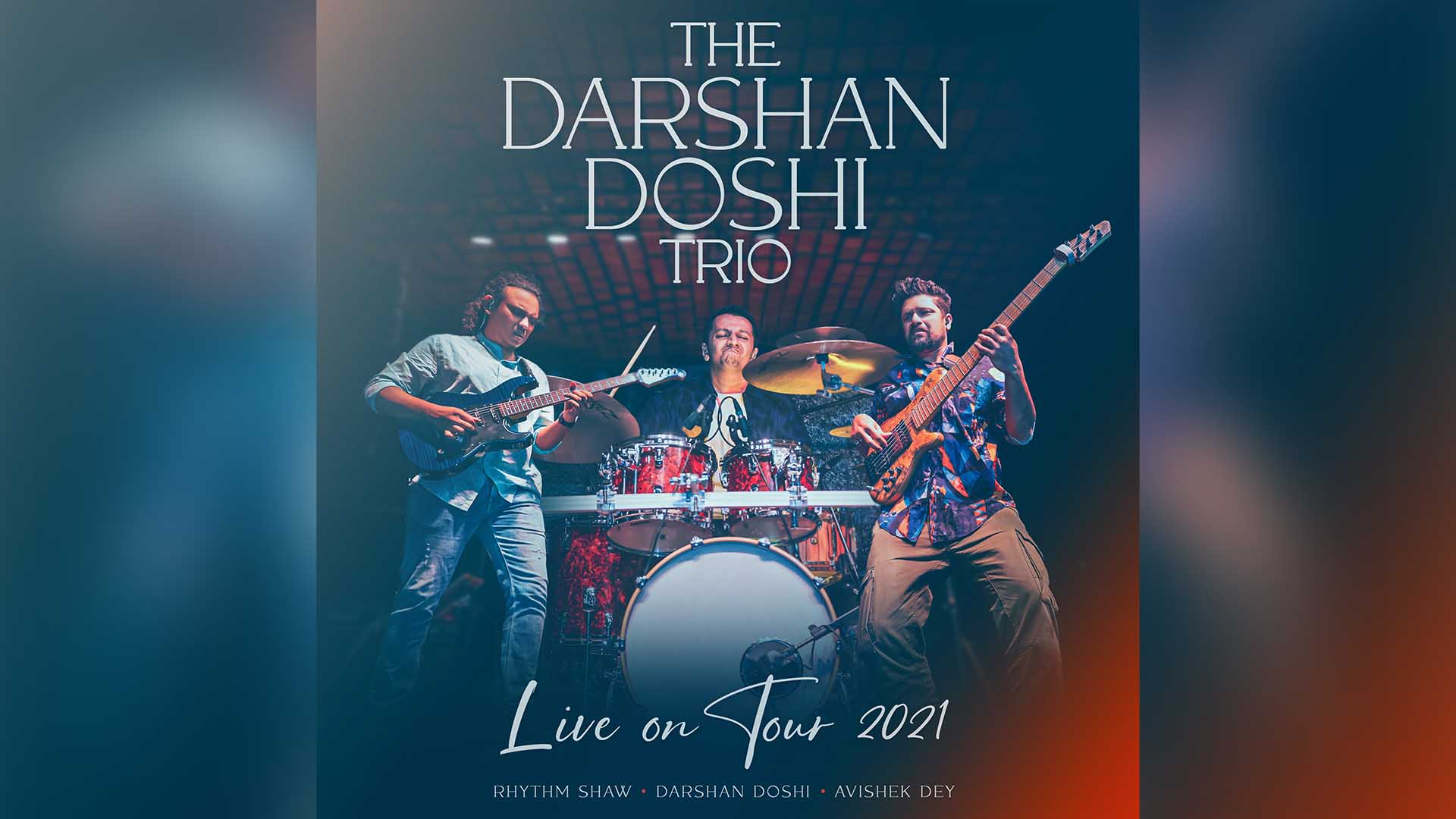 Instrumental Jazz-Funk Tracks Bring Darshan Doshi Trio's Detailed Compositions And Soundscaping To Center Stage.
Roughly five months ago, Darshan Doshi Trio released an expansive, live jazz-funk saga that spanned 7 songs over the course of 34 minutes and featured 2 guest vocalists.
The pure instrumentals allow DDT's detailed compositions and soundscaping to take the lead role and make you pay attention to every beat. These seven instrumentals were captured live during tours in the post-pandemic sessions; four in 2021 with three more a few weeks later in 2022. The recordings were live and unrefined, most nailed in a single take. They were aiming for energy over perfection in the performances but with artists this seasoned, you get both. The format is classic organ trio with Avishek De  handling the bass parts, Rhythm Shaw slinging his tough, tight jazz oriented guitar lines, and Darshan Doshi drumming and holding down a crisp, crackling back beat driving the attack.
Darshan Doshi Speaks To Us  
"Darshan Doshi Trio was formed back in 2017 when I was working on a few singles with Rhythm Shaw and Mohini Dey and after that I have been doing a lot of concerts with Darshan Doshi Collective which is slightly a bigger band. Then in 2021 after the lockdown when things were again opening up, we pushed Darshan Doshi Trio back on touring that's when this video series was shot and now we have Rhythm Shaw on Guitars and Avishek De on base and we also had one guest artist from each city. So we did a 5 city tour and we had Rakesh Chaurasiya in Mumbai, Varun Venkat who joined us in Pune, Vasundhara Vee in Delhi, Varijashree Venugopal in Bangalore and Samit Chatterjee in Kolkata.
The highest point for DDT is this album and the 5 city tour that happened in October 2021 which was a big success.
It is difficult to pick one single favourite gig out of 2500-3000 gigs that I have done, but one very special moment was back in 2017 when I got to share the stage with one and only Ustad Zakir Hussainji, I have grown up watching him, and he is one of my biggest inspirations as a percussionist and then getting a call from him to share the stage was very special to me. 
So fortunately I do this music for the love of it and not for making money out of it, so its little simple for me, we musicians do commercial music that's where our bread and butter comes from it, but when it comes to jazz fusion music and especially with this band its more about playing our music and spreading the music that we want to play and share that with our fans and people who follow us for our commercial music. So its important to do that for our love for music and the minute you start thinking about making money from it is going to be difficult right now as there are very limited venues to perform and realistically you cannot expect any big monies coming out of those situations so I would suggest to people who want enter into playing music to find a balance between commercial music and the music you want to play.
2022 is going to be very exciting for DDT as we have many amazing gigs and festivals lined up and were also releasing a studio album at the end of this year which will feature couple of guest artists.
Currently the jazz scene is not as great or big as the commercial and independent market, but i feel things are going to change very very soon as there's a big boom of independent music and artists which is now being promoted at a very big level, and us as musicians its very important to keep pushing it as much as possible and yes we need more festivals and stages to perform to support jazz music and when that happens you will see many new young musicians getting into jazz music. 
I love working on collaborative projects and with musicians who are that level, this lockdown has been really fruitful when it came to collaborations as I got to collaborate with many amazing artists starting from indie artist like Aditi Ramesh, to Swaminath Silver Ganesh to young drummers like Shavan Shamsi, percussionist like Ojas Saraiya, and my recent collaboration was with Bugbang Chatterjee for his latest album unbounded Abaad which included artists like Jawed Ali, Satofique Qureshi and Jordan Crudas who is my idol and I got to share stage with him so it was a very big moment for me."
LISTEN TO LIVE ON TOUR 2021 ON SPOTIFY