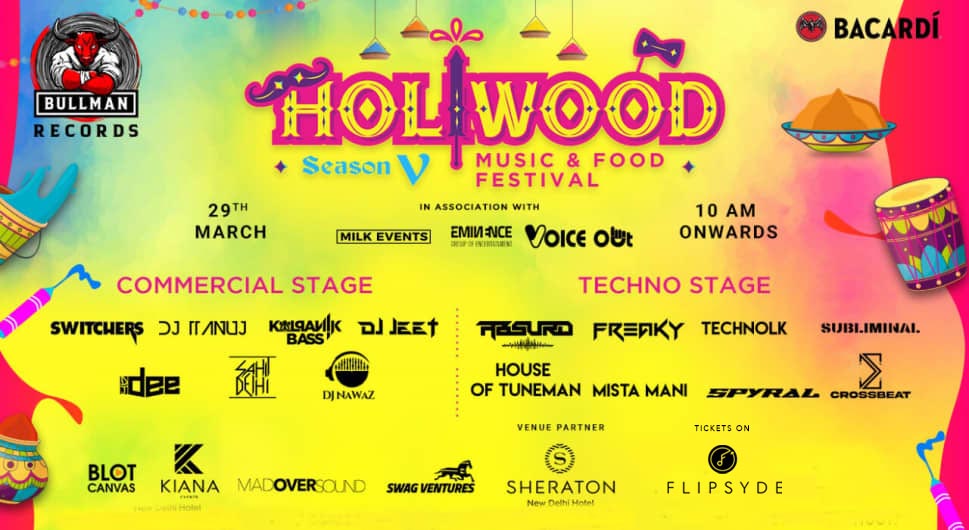 Bullman Records Presents Holiwood Season 5.0 - Tickets on FLIPSYDE
After 4 SUPERHIT Seasons of Delhi/NCR's Biggest And Most Elite Holi Celebration, Holiwood Music Festival Is BACK with a bang!
Get your tickets today by clicking the button below.
EVENT DETAILS
HIGHLIGHTS:

• 5 Star Venue
• 2 Dedicated Stage
• Techno and Bollywood Music
• 15 Artists
• Amazing Music
• Different zones
• Dry Holi with organic colors
• VIP / VVIP Tables packages
• Domestic and Imported drinks
• Exotic varieties of food
• Elite crowd
• Parking area & Valet Parking Available
• A safe place for the celebration
• Dedicated security
• Credit / Debit card facility

ARTIST LINE-UP
Commercial Stage
DJ Ttanuj
Kalpanik Bass
DJ Jeet
DJ Adee
DJ Sahil Delhi
DJ Nawaz

Techno Stage
Absurd
Freaky
Technolk
Subliminal
Mr. Mani
Crossbeat
House of Tuneman
VENUE
Sheraton New Delhi Hotel
Address :Saket District Centre, District Centre, Sector 6, Saket, New Delhi, Delhi 110017, India

Starts at
Monday, 29 March 10:00 AM

Ends at
Monday, 29 March 04:00 PM

Prices:

Early Bird - Ladies
₹1510 Each pass permits one lady to the event. (Inclusive of 1000/- cover charges ; Fully Redeemable)

Early Bird - Couples
₹2510 Each pass permits one couple to the event. (Inclusive of 1500/- cover charges ; Fully Redeemable)

Early Bird - Stags
₹2010 Each pass permits one stag to the event. (Inclusive of 1500/- cover charges ; Fully Redeemable)

Kids (10-18yrs)
₹510 Each pass permits one kid to the event. (Fully Redeemable)

Crystal Package (6 Adults)
₹30010 Each pass permits 6 individuals to the event. (1 - Dewars, 1 - Absolut, 5 - beer Unlimited snacks)

Royal Package (8 Adults)
₹50010 Each pass permits 8 individuals to the event (1 black label or 1 chivas regal, 1 Grey goose, 10 red bull, 10 beers, Unlimited snacks)

Epic Package (12 Adults)
₹80010 Each pass permits 12 individuals to the event (2 black label or 2 chivas regal, 2 grey goose, 15 beer, 10 red bull, Unlimited snacks)
Get your tickets today by clicking the button below.
ORGANISER INFORMATION
Organised by: Swag Ventures

Registration Details:
The indicated ticket prices are final and inclusive of processing fee and taxes.

*Organizers/Venues are solely responsible for the service, availability and quality of the events including all or any cancellations/modifications/complaints. Flipsyde bears no responsibility.

Venue/Organisers rules apply.

TERMS AND CONDITIONS
- Please carry a valid ID proof along with the valid ticket. Flipsyde is not responsible for any injury or damage occurring due to the event.
- People in an inebriated state will not be given entry.
- Being only a ticketing portal, Flipsyde does not take any responsibility for the activities going on inside or outside the event, as the entire responsibility of it is of the organizer/venue.
- Please go through the details on the Event Details Tab and the Checkout page thoroughly before booking the tickets, as the tickets which are NOT booked in compliance with it will not come in the ambit of discussion.
- Internet handling fee per ticket applied. The amount indicated is inclusive of tax and our fee. Please check your total amount before payment.
- Tickets once booked cannot be exchanged or refunded.
- Unlawful resale (or attempted unlawful resale) of a ticket would lead to seizure or cancellation of that ticket without refund or other compensation.
- Alcohol (if available) will be served only to guests above the legal drinking age (LDA) and on display of valid age proof.
- In case a booking confirmation e-mail and SMS gets delayed or fails because of technical reasons or as a result of incorrect e-mail ID / phone number provided by the user etc, a ticket will be considered 'booked' if the payment has been processed by Flipsyde and you will have to contact our representatives for issue of tickets.
- Arms and ammunition, eatables, bottled water, beverages, alcohol is not allowed from outside to the event. Food and beverages will be available inside the event.
- Persons suspected of carrying items that may be used in an offensive or dangerous manner, or carrying out illegal activities within the site may be searched.
- In certain circumstances, Flipsyde reserves the right to cancel the tickets owing to any internal reason which requires such action. In such cases, the customer will be provided full refund for the ticket within 7-10 working days.
Get your tickets today by clicking the button below.